About the the Bahá'í Faith and the Temple
The Bahá'í Faith is one of the youngest of the world's major religions. It was founded in Iran by Bahá'u'lláh in 1863.
The South American House of Worship is the last of the 8 continental Temples commissioned by the Bahá'í Community. This wondrous piece of architecture is built on 10 hectares of land just outside Santiago, Chile in the foothills of the Andes mountains.  Nine identical "wings" are assemble to create the dome like shape. Each "wing" is comprised of 1,129 unique flat and curved shapes of 1 1/4″ thick glass hand made by Jeff Goodman Studio
About the Temple Glass
The Temple Glass product is a handmade glass surface invented and fabricated by the studio for the Bahá'í Temple of South America. Siamak Hariri approached master craftsman Jeff Goodman with a request for a translucent white glass building product that could filter natural light to create a serene environment while withstanding the rigorous weather fluctuations and seismic activity notorious in the Andes mountains of Chile.
After over 100 samples and years of testing, the Temple Glass was born, a carefully designed formula of borosilicate glass cast in custom made kilns by the team at Jeff Goodman Studio in Toronto. The project took over 12 years to complete, with 8 years dedicated to manufacturing 55,000 square feet of  1 1/4″ thick Temple Glass. Every square inch was set by hand by a team of artisans to ensure consistent pattern and translucency.
Temple glass is available for designers and architects to use in retail, hospitality and residential projects as feature walls, partitions, skylights, custom tables and fireplace surrounds.
Read more about the project at Hariri Pontarini Architects.
Official Bahá'í website: Bahá'í House of Worship of South America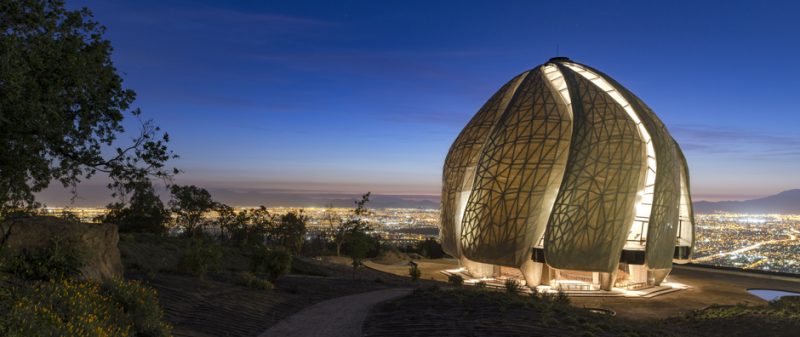 Press + Publications
"…a Canadian-designed piece of architectural daring in cast glass is taking shape…Artisans at Toronto's Jeff Goodman Studio, working in close collaboration with Toronto's Hariri Pontarini Architects, have produced the thick, milky glass for a Bahai temple on the edge of metropolitan Santiago, Chile…
It took years of testing…to arrive at the 32-millimetre-thick cast glass with matte finish. That the design is finally being mocked up in Germany represents a major milestone, says Hariri…"
Excerpt from Globe and Mail article Gehry, Gartner and glass make for luminous buildings by Lisa Rochon
Awards
• Royal Architectural Institute of Canada (RAIC) : Innovation in Architecture Award
• World Architecture News : Civic Buildings—Unbuilt
• International Property Awards, Americas Architecture Award
• Architect Magazine: Progressive Architecture Awards Citation
• Ontario Association of Architects (OAA) : Ideas & Presentations Category, Honourable Mention
• Canadian Architect : Award of Excellence